One of the first things I did before launching my new homepage at
lapetitefashionista.com
was create a branding guide. I wanted to create a homepage + blog posts that had more consistent look and feel. This is essential in making a blog or business feel like a
brand.
You can achieve this through using consistent fonts, colors, and creating an inspiration board of the style and feelings you want your brand to evoke.
This is the branding guide I created for La Petite Fashionista + LPF Media. I'll take you through the steps I took in creating my branding guide below!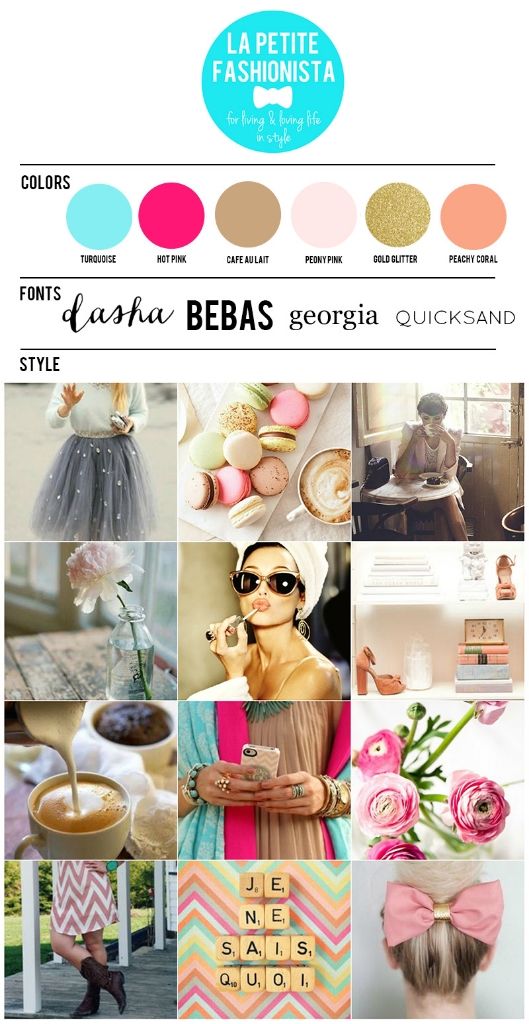 1. CHOOSE 3 BRAND WORDS:
Try to choose 3 words that you'd use to describe your brand- these will become your brand words. Try to remember these brand words in every piece of content you post so they become themes for you.
2. FIND INSPIRATION
Next, take to everyone's favorite inspiration site,
Pinterest
! Using a secret board, start searching for and pinning images to your board that have a look & feel that represent your brand.
For La Petite Fashionista - that's represented by french flavor, bows, stylish social media, cowboy boots, fresh flowers & coffee shops!)
3. DESIGN YOUR INSPIRATION BOARD:
Select 9 of your favorite images to create a collage using
Picmonkey
or another photo editing site
4. CHOOSE YOUR BRAND COLORS:
Is there a common thread in the colors used in your brand's inspiration board? Select 4-6 colors that will represent your brand + be used on your site's headers / logo / business cards, etc.
It was obvious after creating my inspiration board that I was drawn to dusty pastels and corals, taupes & bright pops of turquoise and hot pink!
5. SELECT FONTS:
Choose 3-4 fonts to use in your branding for logo, website headers, and blog body text. You will want to choose at least one bold font, one italicized font, and one plain text font
It's amazing how your content begins to feel cohesive when you try to abide by your branding guide. Suddenly clients or blog readers begin to recognize your signature fonts, colors, & style. When your content is connected, you instantly look and feel more polished and professional- even if your site is new.
Need help getting started or creating your branding guide?
Contact me
for my freelance branding & social media services and we can make something that feels perfectly "you"!
Have you created a branding guide for your business or site? Be sure to share!
dream big!